An anniversary 400 years in the making is inching closer.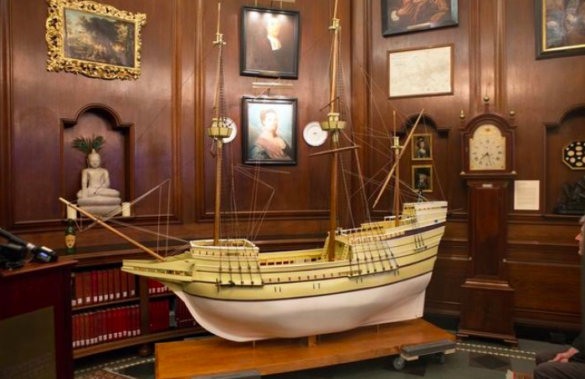 The New England Historic Genealogical Society unveiled two exhibits Wednesday as part of the lead-up to the 2020 Plymouth 400 anniversary, a celebration of the Pilgrims' voyage to this continent and the founding of Plymouth Colony.
The society displayed an approximately 10-foot-long replica of the Mayflower, the ship that brought the Pilgrims from Europe in 1620, and a life-size figure of a Wampanoag woman with a child and a beaded wampum belt.
"I feel like it's starting today," said Dusty Rhodes, chairwoman of the state's Plymouth Massachusetts 400 Commission. "We are ready."
The exhibits will be displayed in front of the genealogical society's headquarters on Newbury Street in Boston. The society's president and CEO, Brenton Simons, said the prominent display of the exhibits on a street with high foot traffic will help teach people about the legacy of the Pilgrims and the Wampanoag tribe.
"We wanted to do something to capture the public's imagination," Simons said. "Countless residents and visitors to Boston and the public at large (can) become better acquainted with tribal legacies that endure and need to be better known and a Pilgrim heritage that is known to millions."
Although the opening ceremony is still a year away, Plymouth 400 Inc. Executive Director Michele Pecoraro said a series of about 125 sanctioned celebration events began with Wednesday's ceremony in Boston, and there will be seven main events in 2020. After years of planning, it's exciting to see events starting to come to life, she said.
"This is going to be big," Pecoraro said. "It's exciting to see things like this happening because until now it's all been theory, it's all been planning."
To read further, please click here.