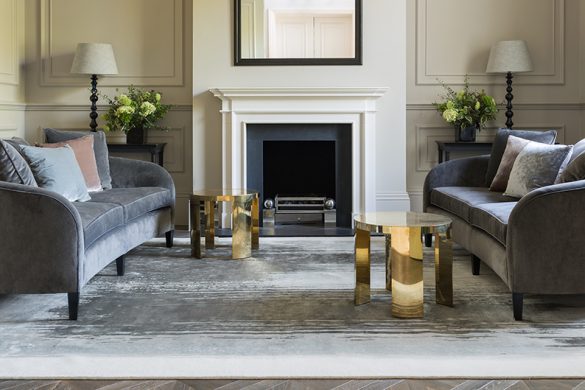 The Rug Company's latest collection of abstract rug designs features alluring and expressive forms, painterly strokes and sinuous lines, all rendered in handknotted wool and silk. Drawing inspiration from abstract art, architecture and organic forms, the striking collection of 12 contemporary designs ranges from the bold to the subdued and confidently combines cutting edge design with exquisite materials.
Pictured above, the Brushstrokes design is an abstraction of painterly movements. Many subtle colors are at play in this design, gently merging together in shimmering silk yarns. The meticulous craftsmanship of The Rug Company's wavers ensures that each tone of the palette is perfectly matched in lustrous silk, and then carefully blended with its neighbours to give a a subtle but highly decorative effect.
Other abstract designs include Wake a hand-painted design that draws inspiration from the fluidity and movement of water. The abstract Smoke design brings the intangible nature of smoke into the soft plane of a handknotted rug. Lastly, inspired by 50s terrazzo floors, the Terrazzo design has been given a modern update with a versatile palette of blues and greys on a cream background.
These versatile design pieces are available from stock and can also be made to any custom size, shape or colour. The Art of Abstraction will be on display throughout the summer, you can view the collection at The Rug Company at 129 Newbury Street.