Signs of spring are beginning to show along Newbury Street! Tulips are budding, the snow banks are melting, the seasonal sales and new styles are arriving in stores. We've scoured the street for this springs must-have styles for him; whether you prefer to hit the beach or the boardroom, we've got you covered with this season's men's spring selects.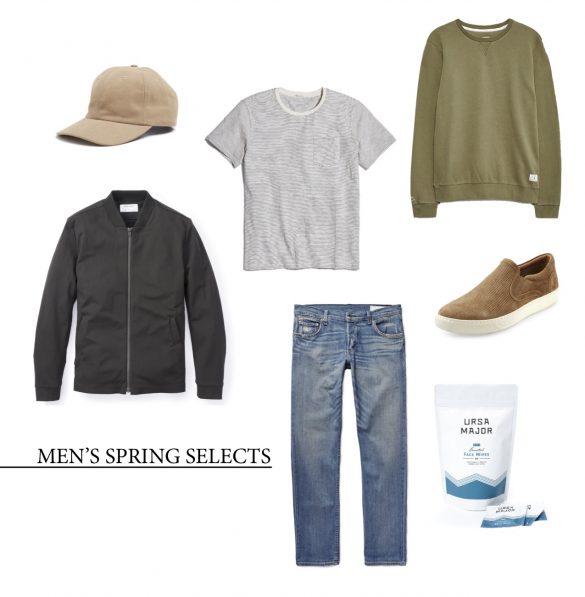 Steven Alan Storm Cap: This neutral cotton cap tops off any casual look and is a nice upgrade from your trusty Red Sox cap (also available in black corduroy). Steven Alan has select sale styles marked down with an additional 60% off– including this cap, making it a steal!
Marine Layer Signature Pocket Tee in Natural/Black: Stripes are the new black! Plus, Marine Layer is known for their ultra-soft, ultra-durable knits for him & her. Don't believe us? It just takes trying one on to get you hooked.
Jack Wills Fielding Sweatshirt: Layer up on cooler days in this 100% cotton pullover. Olive green keeps the look fresh, while still pairing well with the denim and khakis you love. Available in 4 colors at Jack Wills.
Ministry of Supply Going Places Bomber: Spring showers have met their match in this durable water repellent polyester bomber. Ministry is known for their high tech, ultra stylish pieces and this bomber is a classic piece you're sure to get a ton of use from.
Rag & Bone Fit 2 Denim: Warmer temps call for lighter denim, both in color and in weight. This pair from Rag & Bone are the perfect shade and aren't too heavy for the warmer spring days that are sure to come.
Vince Ace Perforated Sneaker: These suede slip ons are nice enough for weekend brunch but still comfortable for strolling up and down Newbury Street. They'll pair nicely with lighter shades of denim and are perfect for pairing with patterned shorts and polos.
Ursa Major Face Wipes via Credo Beauty: If you've ever slacked on skin care these face wipes are for you. They clean, exfoliate, soothe and hydrate leaving skin feeling refreshed. Pop them in your gym bag or in your pocket for a pick me up after a long day.