Local running apparel companies Tracksmith and Janji are popping up near the finish line of the Boston Marathon during the month of April and into May. Both stores are the latest pop-up installations in The Newbury Collection.
Dubbing the project Run Boston Shop Boston, Jamestown Properties is aiming to give the international running community a taste of Boston area athletic-wear brands. Janji will be returning to 144 Newbury Street after a successful pop-up shop last holiday season, while Tracksmith is opening their Bobbi Gibb inspired experience at 899 Boylston Street.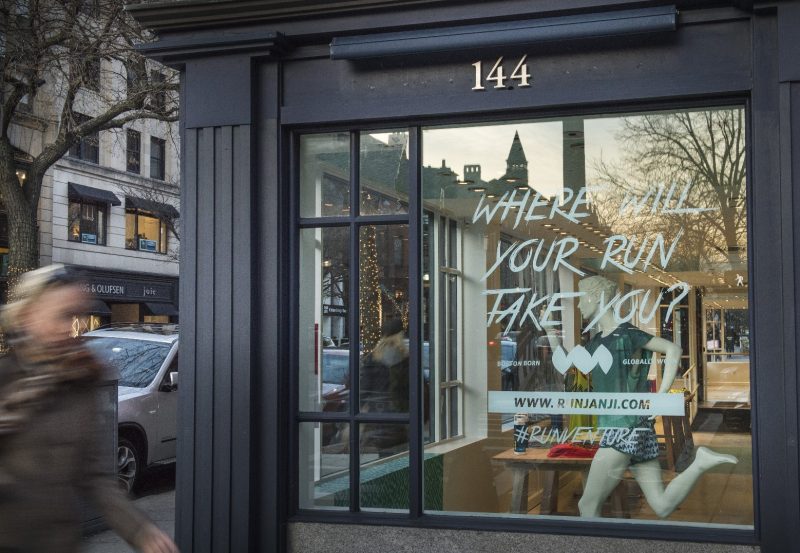 Both brands hail from Greater Boston and will present unique programming in their respective spaces, drawing on the region's rich running history and active fitness networks. Some of the events include midnight runs, guest running clubs, book signings, pasta parties, and fitness classes.
With the influx of international runners in town for the marathon, Run Boston Shop Boston will showcase a combination of broad appeal with local sensibilities. Janji, for example, is focused on the social mission of combating the global water crisis. Donating a portion of each sale to various partnerships in different countries, Janji offers the opportunity for runners to shop with a social conscience and give back through their everyday training.
Tracksmith is a New England heritage running brand that celebrates the style and culture of the sport. The pop-up shop will highlight Bobbi Gibb, the first woman to run the entire Boston Marathon, featuring an art gallery with some of her pieces and a limited-edition Bobbi Gibb short.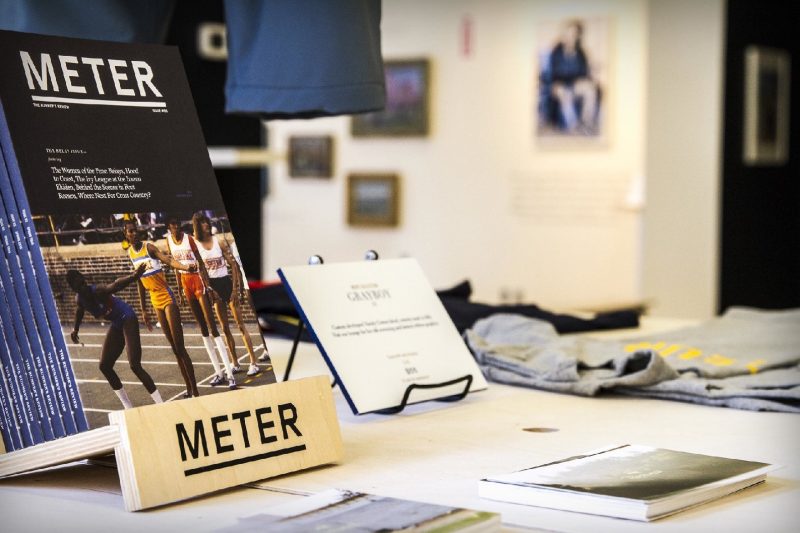 ---
Events
3/28/2016 6:00 PM Janji $10 Run + Yoga for Runners at Janji with Brittany Flaherty
3/29/2016 6:30 PM Janji $15 Kick and Sculpt at Janji with Dana Bogan
3/30/2016 6:30 PM Janji $12 Runners Strength and Cardio Bootcamp with Kristen Bonito
3/31/2016 6:00 PM Janji $12 B Strong Body Fix with Cassie Brown
4/4/2016 6:30 PM Janji Jubali Run + Panel
4/6/2016 6:30 PM Janji $10 Kick It with Jennifer Azarian
4/7/2016 6:30 PM Janji $12 Spring Bootcamp with Athena Concannon
4/8/2016 6:00 PM Tracksmith Bobbi Gibb Opening – Invite Only
4/9/2016 1:00 PM Janji $12 Wellness Talk for Runners: Holistic Nutrition & Strategic Self-Care with Jennifer Hanway
4/9/2016 1:00 PM Tracksmith Live Grayboy silk-screening & beer
4/11/2016 6:30 PM Janji $12 Run + Bootcamp with Kaite Dolaher
4/12/2016 6:30 PM Janji $12 Bodyweight Bootcamp with Dana Bogan
4/13/2016 6:30 PM Janji $12 Wellness Talk for Runners: Holistic Nutrition & Strategic Self-Care with Jennifer Hanway
4/15/2016 6:00 PM Tracksmith "Running a Love Story" Book Signing & METER Magazine Release Party
4/15/2016 6:30 PM Janji Inside Tracker Run with Sweet Green
4/16/2016 9:00 AM Janji Pre-Race Shakeout Runs with Famed Coach Greg McMillan
4/16/2016 3:00 PM Janji Book Signing and Q and A with Chris McDougall
4/16/2016 1:00: PM Tracksmith Live Grayboy silk-screening & beer
4/16/2016 7:00 PM Tracksmith Film screening, Everest on the Track
4/17/2016 TBD Janji Pre-Race Sign Making Party
4/17/2016 1:00 PM Tracksmith Live Grayboy silk-screening & beer
4/18/2016 Tracksmith Marathon Watch Party and Post-Race Celebration
4/18/2016 TBD Janji Post Race Beers at the Store
4/19/2016 11:00 AM Tracksmith Bobbi Gibb Anniversay Shake Out Run with Women's Running
4/19/2016 6:00 PM Janji $12 B Strong Body Fix with Cassie Brown
4/20/2016 6:30 PM Janji $12 Bootcamp Throwdown with Samantha Burke
4/24/2016 10:00 AM Janji $12 Vinyasa Flow with Laura Mucci
4/25/2016 6:30 PM Janji $12 Run + Bootcamp with Katie Dolaher
4/26/2016 6:30 PM Janji $12 Spring Bootcamp with Athena Concannon
4/27/2016 6:00 PM Janji $10 Run + Yoga for Runners at Janji with Brittany Flaherty
4/29/2016 5:30 PM Janji $10 Vinyasa Flow with Jessica Emilfarb
4/30/2016 11:00 AM Janji $10 Kick It with Emily Crocker
5/2/2016 6:30 PM Janji $12 Run + Bootcamp with Katie Dolaher
5/3/2016 6:30 PM Janji $12 Fit Flow with Laura Mucci
5/4/2016 6:30 PM Janji $12 Hip Hop Bootcamp with Samantha Burke
5/7/2016 10:00 AM Janji $12 B Strong Body Fix with Cassie Brown
5/7/2016 12:00 AM Janji Midnight Run Party
Contact us if you're interested in popping up on Newbury Street