You know you love Shake Shack.  You know you don't trust anyone who doesn't.  You know how lucky you are that, when that ShackBurger and those crinkle fries call out to you from Instagram, you can hop down the street to Shake Shack Newbury Street to get your fix.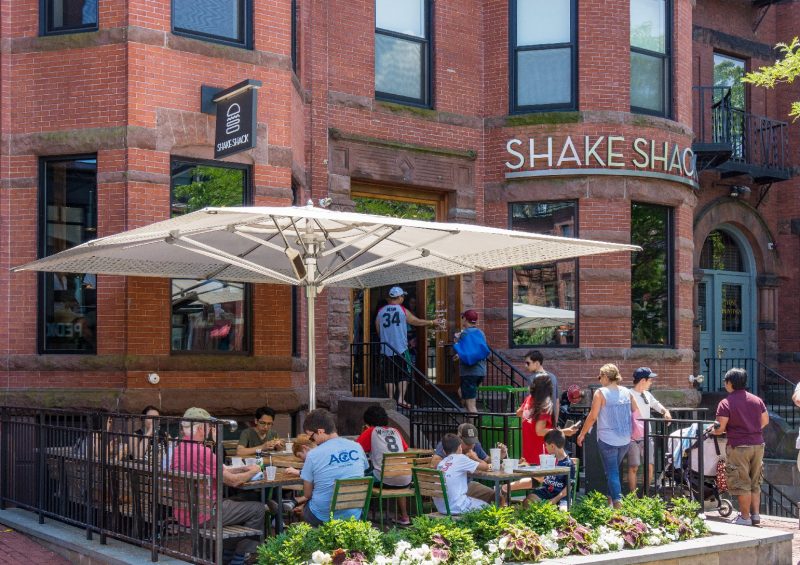 Here's five things that you didn't know about Shake Shack:
Shake Shack started as a hot dog cart
Shake Shack sprouted from a hot dog cart (below) in Madison Square Park in Manhattan, created by Danny Meyer's Union Square Hospitality Group to support the Madison Square Park Conservancy's first art installation "I ♥ Taxi." The cart was quite the success, with Shack fans lined up daily for three summers. In July 2004, USGH won the bid to open a permanent kiosk in the Park, and Shake Shack was officially born!
Shake Shack was almost called Custard Park, Dog Run, or Custard's First Stand
When Danny Meyer first jotted down his ideas for Shake Shack on the back of a napkin, he had some other names in mind.
Every Shack has a unique menu
All Shake Shacks feature a local concrete (frozen custard blended with mix-ins) featuring ingredients from local food purveyors. Sometimes we'll feature an additional menu item exclusively for a local market – such as the Coppa Burger, which was made just for Boston Shacks from August 16-21, in collaboration with Chefs Ken Oringer and Jamie Bissonnette.
We're all about our hood!
We're committed to extending hospitality beyond the four walls of the Shack and into the community, and you'll see a portion of the proceeds of a concrete benefit a local charitable partner. We're invested in our local community, and we design each Shack for each specific area.
At our Boston Seaport Shack, for example, we donate 5% of sales from our Seaport Salt & Malt Concrete to Courageous Sailing, a nonprofit community sailing center that provides education and ocean access to Greater Boston community members. The Boston Seaport Shack was designed to reinterpret the industrial warehouses that were once common to its surrounding area, with walls made of reclaimed factory flooring.
Some of our menu items are secret…
You might not see them on the menu, but you can order a BLT, grilled cheese or our vegetarian Garden Dog: a Martin's potato roll with Rick's Picks Shack relish, onion, cucumber, pickle, tomato, sport peppers typical for Chicago-style dogs, celery salt and mustard. Shhh, don't tell anyone!