deWolfe Leather Goods Opens Shop and Studio on Newbury Street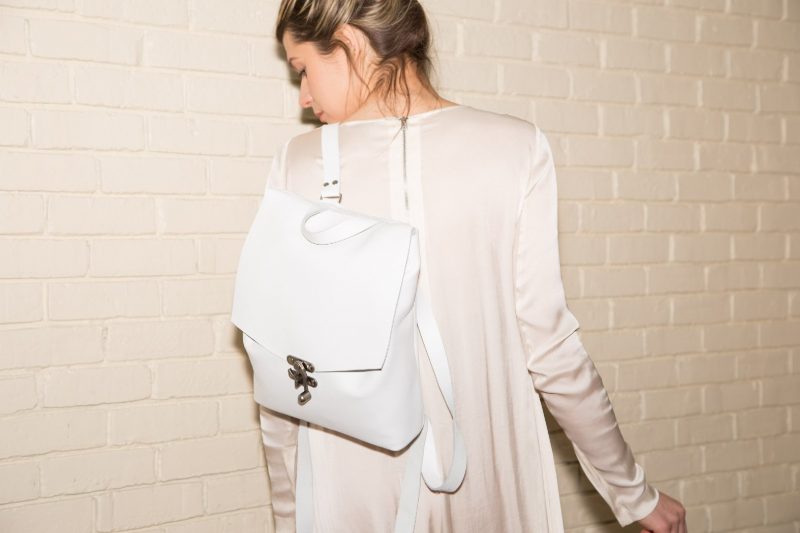 When Gina DeWolfe was bed-ridden for three years, her grandfather bequeathed her a set of leathersmith tools. Late-stage Lyme disease had immobilized her, offering what seemed like only a grim prognosis – but when one door closes, another one opens.
She found solace in hand stitching scraps of leather. Nourished by the creative outlet, DeWolfe continued stitching through her recovery as she fought to regain her health and life back. She would walk again.
And when she did, people were curious about her backpack which DeWolfe explained she had made herself. Someone asked if she would make them one, and that single order turned into dozens more, which blossomed into a full-time business – deWolfe Leather Goods. Her journey through recovery is rife with perseverance and fortitude, qualities that dovetail with her leather craft. "I refused to quit during the darkest of days" DeWolfe says. "I operate my business with those same principals."
Those principals have paid off as deWolfe has opened a four-month-long pop up shop on Newbury Street. Calling the concept a "studio boutique," DeWolfe says buyers can shop the current collection of leather goods while witnessing new products being crafted in-store. Visitors can order custom designs or attend workshops led by local entrepreneurs and DeWolfe herself, who is deeply ingrained the Boston design and arts community. "We aim to create an intimate experience for shoppers," she adds, "while crafting leather goods that will become staples in your closet for years to come."
The line features wallets, belts, and bags, including her signature "Wolfepack" backpack adorned with gunmetal hardware, adjustable straps, and wax-thread stitching. DeWolfe is regularly featured in fashion publications and was recently awarded Best Designer by Improper Bostonian. Her arrival on Newbury Street has shown DeWolfe come full circle, as the School of Fashion Design graduate left the street a student only to return a successful businesswoman and teacher of sorts. We can't wait to see what she's working on next.
The deWolfe Leather Goods pop up is located at 177 Newbury Street.
Store Hours
Monday – Saturday: 11-7
Sunday: 12-7
Workshop Events
Stay tuned
---