Castanet, formerly The Closet, opens on the 2nd floor of 175 Newbury Street.
Castanet opens this spring, in a fresh new parlor level space, upstairs from its former location. The designer consignment store features high end "gently worn" clothing, culled from the closets of discerning women across the country. Cassie Knight, longtime manager of The Closet, brings the best elements of the old store upstairs; an elegant consignor base and always interesting inventory.
The vibe of the shop is refined and charming. Clothing is both classic and edgy, fun and original. The diverse selection changes constantly, so whether you favor Rick Owens or Isabel Marant, have an appetite for vintage or prefer the latest trends, Castanet satiates personal style desires.
The beauty of secondhand shopping is never knowing what you might find, and Castanet's loyalists readily confess to loving the "thrill of the hunt." From European brands such as Chanel, Brunello Cucinelli, and Valentino to avant garde Japanese designs like Comme des Garcons, Yohji Yamamoto, and Issey Miyake, unusual fashion fills the room, without being overwhelming. Handbags continue to be a focus, with a consistent stream of fine leather goods from the likes of Celine, Bottega Veneta, and Louis Vuitton. Don't let the designer labels intimidate you, Cassie understands the importance of mixing luxury and lower price points. Castanet is a place to come for value, where there is always something new and surprising to see, for all tastes and budgets.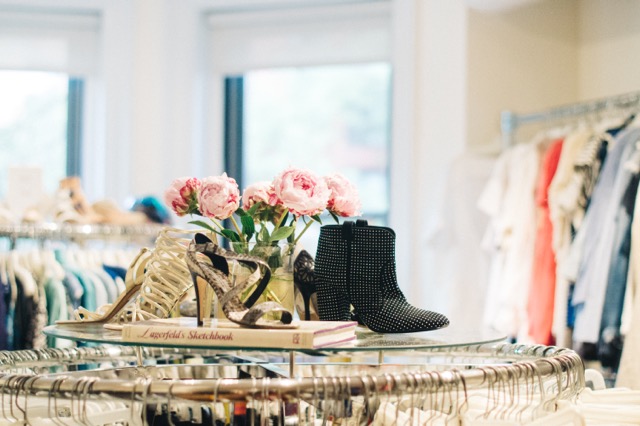 The landscape of Newbury Street is always changing, yet it remains a fashion destination, for locals, and visitors alike. "Newbury Street has always been the perfect location for the store, and Castanet is thrilled to remain a neighborhood fixture." says Cassie. In fact, Castanet is a Back Bay gem. If you can't make it to Boston, don't worry, an online store is planned.
Building on The Closet's legacy, Cassie is proud to continue the relationships that her mentor, Kevin Kish formed over the last 38 years; they are the backbone of her small business. She enjoys greeting each consignor by name, and learning the personal style (and size!) of regular shoppers. "I love what I do, I'm in the business of making fashion dreams come true!"