That brisk morning chill in the air, that first sign of frost on your windshield; old man winter is coming a knocking, and probably sooner than most of us would like. Don't fret, with winter comes a cozy winter wardrobe! Bundle up with Barbour at 79 Newbury Street, layering  never looked so good. Stay tuned for holiday promotions coming soon!
Barbour International, casual and fashionable in easy to wear fabrics, the Tourer collection offers a wardrobe of off-duty clothes. Exclusive abstract T-Shirts join blacks and blues in belted waxes, quilts and gilets.
Barbour's origins inspired The Original North Sea Outfitters collection with a range that focuses on the best in warmth and protection. Exclusively designed blanket linings and internal baffle quilts are used for extra warmth alongside chunky knits. Bark and navy feature indigo highlights in knitwear, shirts and jacket linings.
Cut for a contemporary oversized fit, the Barbour International Visor Shirt is made from biker-inspired black chambray denim and features two stud-close chest pockets.
The loose, open texture of this women's sweater creates a chunky yet lightweight feel, making it a great choice for everyday winter wear. Its slightly ovoid shape is a key look for the season.
Celebrating cool biker chic, this oversized wax parka features a lustrous waxed cotton outer and a hood with a detachable faux fur trim. Lined in Barbour International's signature monochrome tartan.
---
This smart, stylish men's crew neck is made from pure merino wool with a slimline stripe and contrast ribbing to the neckline, hem and cuffs. A Barbour-branded eyelet completes the line-up of details.
The Barbour Helm Button Through is crafted in luxurious lambswool with a chunky peanut stitch and smart branded buttons. A faux baffle-quilted liner creates a stylish layered look.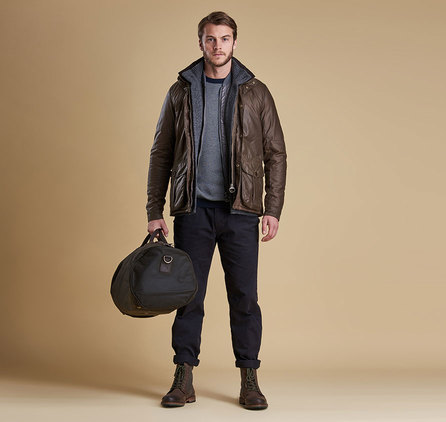 This casual men's wax jacket is cut for a shorter length and features two military-style pockets with side entry, a stowaway hood, adjustable cuffs and a corduroy inner collar. The lightweight quilted lining makes it incredibly warm.