Mackenzie of the Boston-based blog, Brunch on Sunday stopped by the street to peek the newest collection at Jack Wills. Check out her beach ready look; we're inspired! 
Newbury Street is always the number one spot that comes to mind when brainstorming places to meet up with a friend for a drink, the place I want to go for dinner or brunch on the weekend with my boyfriend, and the easiest (and most successful) spot to run to if I'm in need of a last minute outfit.
One of my favorite shops on Newbury Street? Jack Wills. Upon walking in the store, you may be surprised to hear that it's not a New England born company. Jack Wills is a British fashion and lifestyle brand that was founded in 1999. Although Jack Wills is a relatively young brand, they have style completely figured out. Jack Wills carries comfortable, no-fuss basics that can be dressed up or down. They carry many nautical inspired prints and solid basics that will be in your closet for years to come. When purchasing an item, I look for versatility, quality, style, and comfort. Luckily, Jack Wills checks all of these boxes.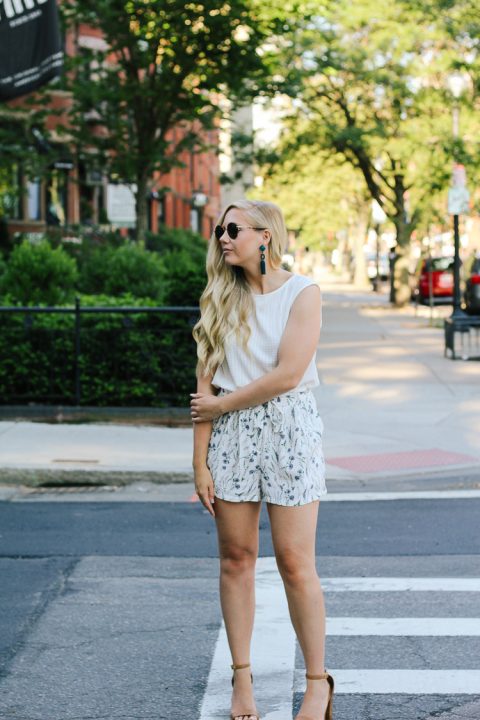 While roaming the store, I walked in with a purpose, but immediately became distracted by just how much I truly wanted everything in the store. Let me tell you, that doesn't happen too often! Something I've been trying to nail this summer? How to dress up a pair of shorts. Some of my favorite styles at Jack Wills included their two piece sets (find the tank top here and the shorts I'm wearing here). If blue is more your style, you can find another two piece set here and here. I had the hardest time deciding between the two colors. I love that the items are sold separately so that you can choose if you would like the printed tank and shorts combination, or switch it up like I did and buy separates. The material, combined with the bow detail on the front of these shorts ties (no pun intended) the entire look together and really helps to dress up these shorts. You could easily switch out your shoes to take this look from day to date night. Think flat sandals for walking around the city during the day, and then either heeled sandals or wedges for a night out. The material is extremely breathable and wearable while also keeping you stylish.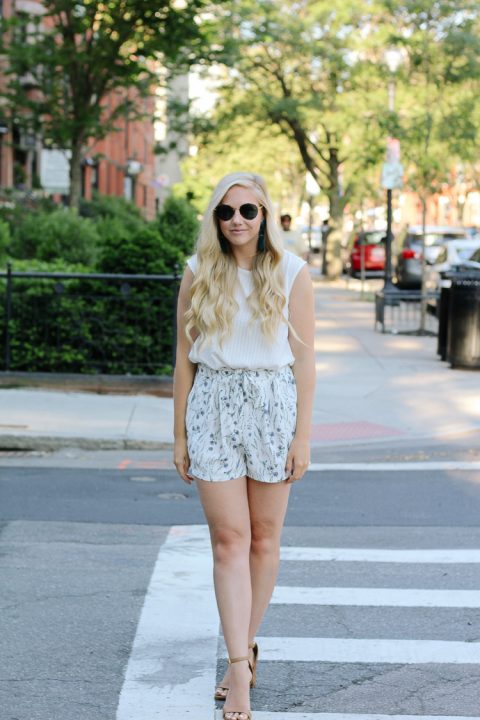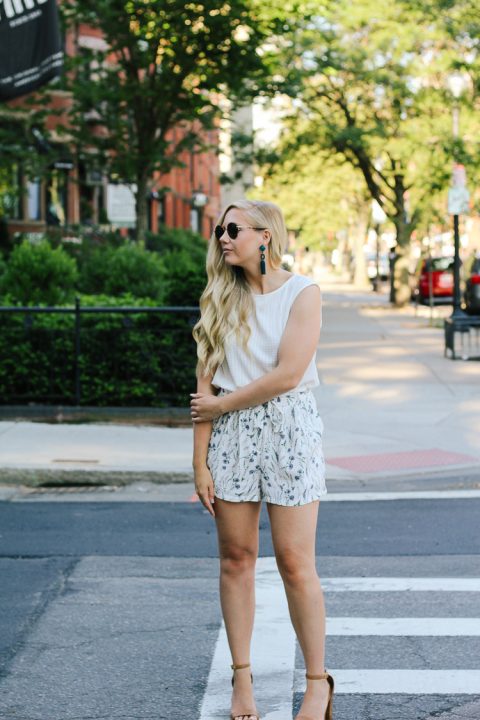 Another nice touch? Rather than carrying "small," "medium," and "large" sizes, Jack Wills carries size zero up to size twelve so that you're sure to find your perfect fit. All of the clothing tags have both the U.K. sizing and the United States sizing listed so that you can shop as easily as possible.
Some exciting news to share – on Sunday, July 23rd, Sunday, August 13th, and Sunday, September 10th, is Open Newbury, meaning you are free to walk down the street and roam as you please. I will definitely be taking advantage. While you're there, check out Jack Wills at 179 Newbury Street (they also carry men's clothing) and I promise you won't be disappointed!