Monday, April 16 Kicks off the The 122nd running of the Boston Marathon. A beloved tradition that brings people from near and far.  So what should you do the weekend leading up to world's oldest annual marathon you ask? We've rounded up all of the Newbury Street pop-ups, promos and events happening in the days leading up to the 2018 Boston Marathon.
 Pop-Ups
April 13th-May 7th
Excited to announce the boys are back in town!  Your favorite athletic fitting dress shirt are back for round 3 pop-up! Make sure you swing by to check out the latest products such as the tech polos and admiral jackets. The store will also feature some exclusive products that will not be sold online. Open every day of the week from 11 AM to 7 PM. As always, they  have a fully stocked bar and would love to have a drink with you when you come in.
Rabbit – 211 Newbury Street
April 12th- April 17th
What better way to gear up for the Boston Marathon than running clothes crafter by the people who know them best, runners who care. Rabbit is simply the best running apparel for men and women available anywhere. They always put running first, obsessing over the details so that our gear has just what you need and nothing you don't. Rabbit has a  ton of fun new gear and some limited edition Boston apparel, perfect for race day!
Goodr – 211 Newbury Street
April 12th- April 17th
Running is fun and your gear should be too. These glasses are not only  fashionable and functional but affordable too! who doesn't  love that?
Friday April 13th – Sunday April 15th.
Pop Up @ 899 Boylston Street is back again for this year's marathon! Runner's World will have a packed schedule filled with shakeout runs with editors, book signings, special guests, Boston Marathon champions, and some Olympians. And this year they'll be adding a ton of new merchandise. From sweatshirts to tote bags to recent releases from their network and expert authors. They'll be open starting Friday April 13th – Sunday April 15th. For a full look at their jam packed schedule click here!
Promos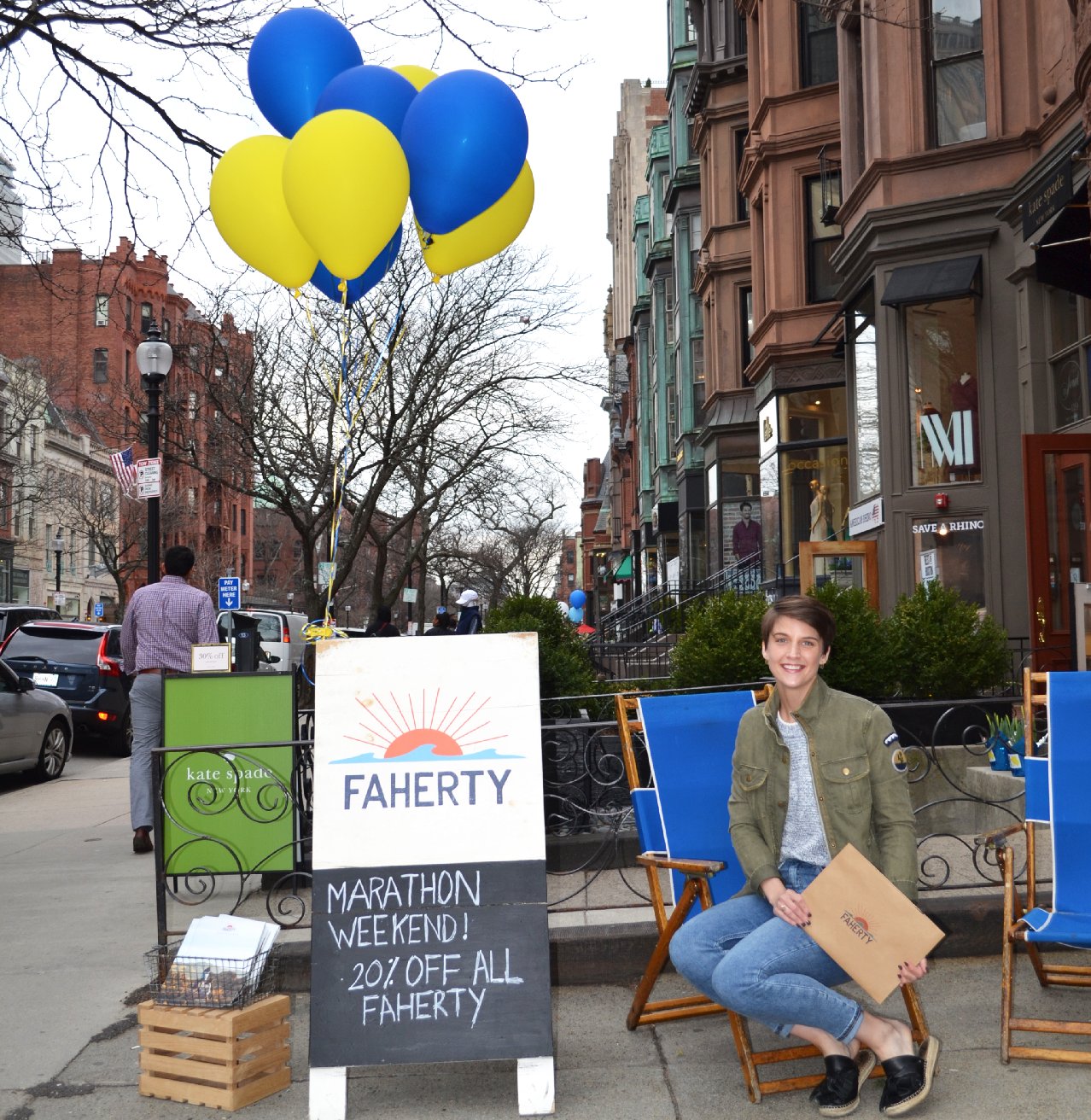 Faherty -115 Newbury Street
Starting April 13th Faherty will be offering 20% off your entire purchase. You will also receive a free blanket with any purchase over $500 (while supplies last)! This promotion will be ending on April 16th
will be offering 25% off regular priced sweats and sneakers
Friday, April 13th – Monday, April 16th
Boston Marathon runners friends + family Enjoy 15 % off your purchase  and 10% of sales will be donated to Boston Strong
Shake Shack – 234/236 Newbury Street
This year Shake Shack will be raising money for the Martin Richard Foundation with a specialty shake that will be available for purchase the week leading up to the Marathon (April 9-16th). The Team MR8 Shake is named after The Martin Richard Foundation's Boston Marathon team, and all proceeds from the shake will benefit The Martin Richard Foundation's work to honor eight-year-old Marathon bombing victim Martin Richard through peace, education, athletics and community. The specialty shake will only be available at Shake Shack's Newbury Street location!
Ministry of Supply will be offering Boston Marathon runners 15% off their purchase, upon showing their race numbers or an email that validates that they are running in the marathon.
Good luck to all the athletics running in this years 2018 Boston Marathon!